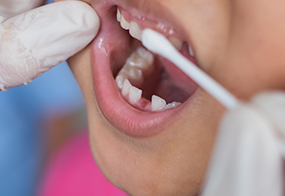 Is your child getting enough fluoride? We'll let you know.
Fluoride, often found in tap water, is a compound containing the natural element fluorine and can help prevent tooth decay when used in small amounts. Many dental products contain fluoride as an active ingredient to help your child obtain a bright and healthy smile.
Our pediatric dentist checks to see if your child needs fluoride treatments during their dental visit. We make sure the health of your child's teeth and gums meets with American Academy of Pediatric Dentistry standards.
Fluoride inhibits loss of minerals from tooth enamel and encourages strengthening the weakened areas of the tooth. Fluoride also helps remove bacteria that causes cavities, discouraging acid attacks that break down the tooth. The risk of decay is reduced even more when fluoride is combined with a healthy diet and good oral hygiene.